The Data Excellence Model Template
In a joint effort, researchers from three European Universities and the Competence Center Corporate Data Quality (CC CDQ) - that exists of more than 15 of the largest European companies - have developed a reference model for data management in the digital economy: The Data Excellence Model. It offers support and guidance for practitioners in the implementation of data management by defining major design areas, while at the same time supporting the transformation into a digital and data-driven company. In case you're interested in receiving the Data Excellence Model (description and terminology) and the template discussed, send in your request via the form below.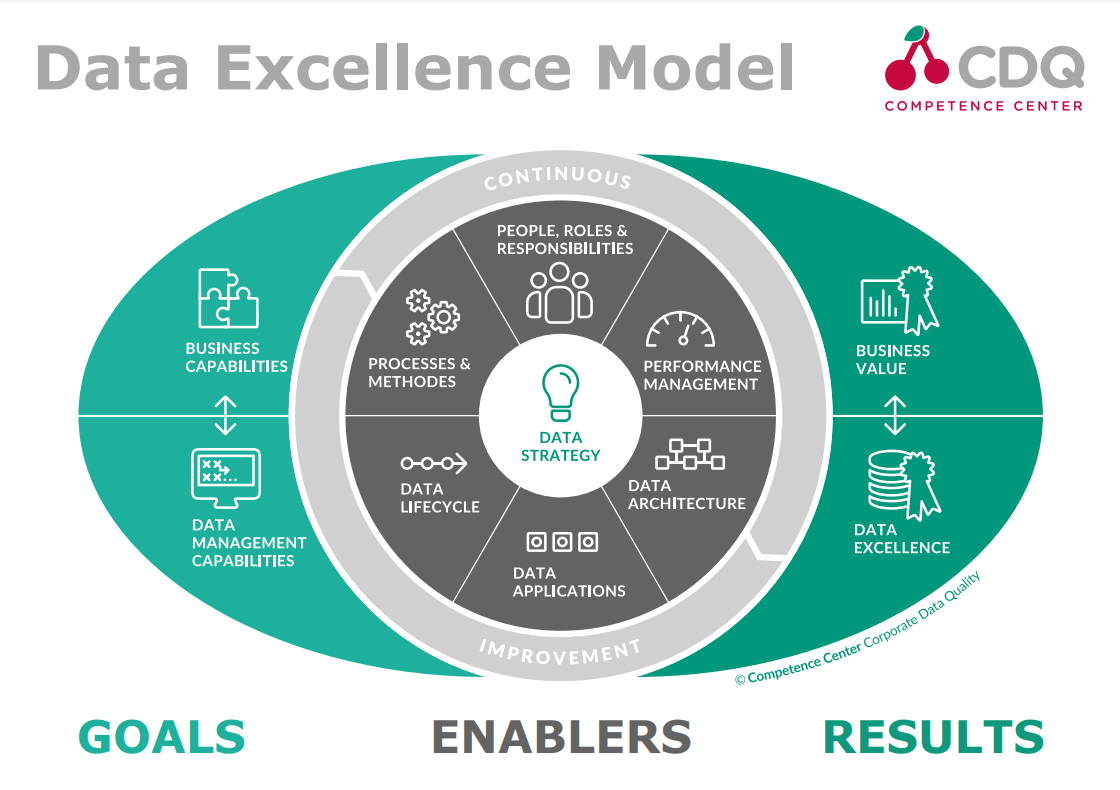 Did you know more than 100 companies are using the Data Excellence Model?
Top 4 user-scenarios

:
As a basis for building corporate data management policies and strategies
As a tool for analyzing existing and emerging data management practices
As a tool for communication and/or education in data management
As a basis for maturity assessment and benchmarking
Webinar recording: Data Excellence Model
In our webinar recording, Dr. Prof. Christine Legner and Dr. Tobias Pentek discuss the Data Excellence Model.
43 min video
The Model and the guiding working paper aim to answer the typical questions that most companies have when launching data management initiatives. How do we start? Where should we focus on? How mature are we and where should we improve? What are good practices and useful concepts and tools?
As a reference model, the DXM provides a generic blueprint that outlines the main building blocks (so-called design areas) for excellence in data management. The template contains the Data Excellence Model (DXM) and a description of the corresponding goals, enablers and results. Simply send in your request via the Form below and you will receive it in your inbox shortly.
Next weeks' content is related to the Data Excellence Model: The Bayer Project. Bayer has applied the Data Excellence Model in their "Cinderella Project." In case you're interested to receive all items, request all summer reads via the central landing page.