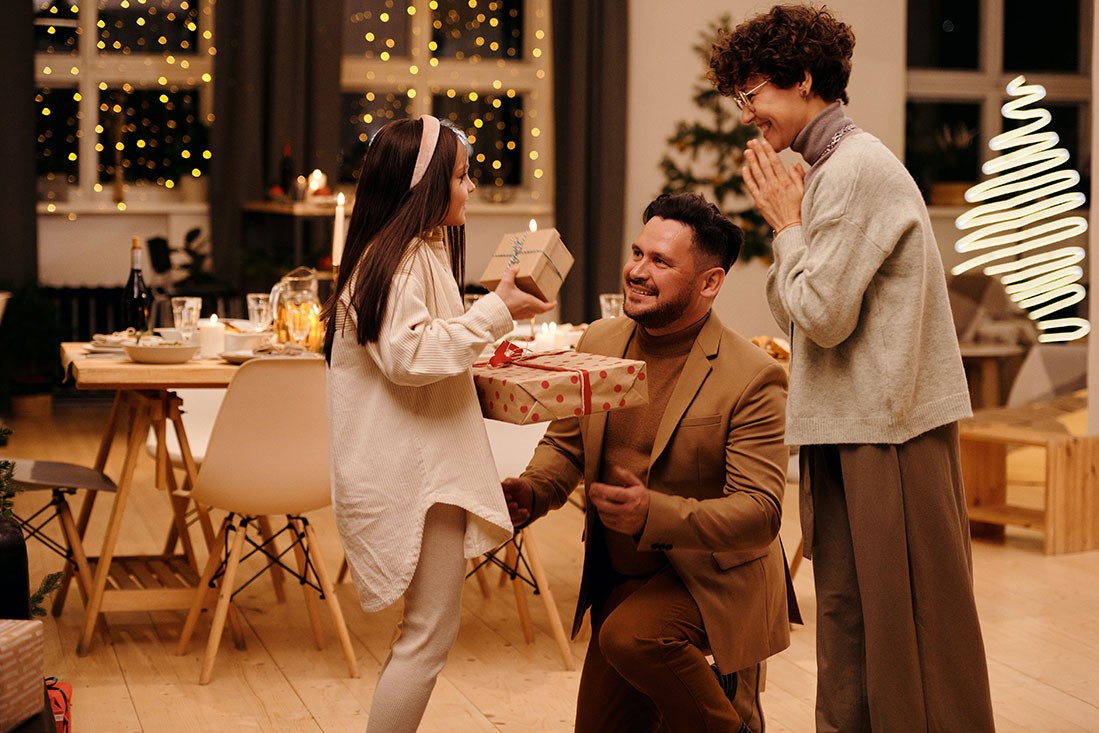 Strategy used to be categorized as simply management until the last century. So, it's no wonder the biggest enterprises, such as Santa's Christmas Corporation, struggle to define it and create a useful one. Getting a strategy into play means Santa needs to make specific choices. His strategy includes getting a better grasp on his companies' data with the amount of data increasing rapidly in every department of his company. Santa therefore has chosen the direction of digitizing his company as much as possible and automating his processes. He wants to be as successful and efficient as possible in delivering his Christmas gifts aiming for a 100% satisfaction rate.
Developing a winni

ng strategy

What happened often in the past, is that things that were urgent crowded out things that were important. Hereby the action of doing was driven, instead of thinking that was falling sideways.

What happened last year?

Last year a lot went wrong. Gifts were missing, children moved to unknown addresses, personalization was off because names were misspelled or wrong, new wish list data was not updated, vendor data and performance were a mess - leading to unsustainable solutions. Delivering gifts exactly on December 24 and 25 considering all aspects that come into play like newborn registries, children moving, sanction lists of bad behaving kids and continuous changing needs in wish lists throughout the year, isn't easy. Therefore, Santa needs an aligning data strategy to his company strategy. By moving into a mostly digital and automated approach for his company, he needs to empower the organization to make data-driven business decisions as well. For this to succeed, Santa is reviewing his overall strategy by avoiding often used mistakes.
Avoid ineffective ways of approaching strategy
Strategy is defined as a plan: Tactics or plans are a part of a strategy but are not enough. Different plans of what to do will in the end result in a sustainable competitive advantage.

Strategy is defined as a vision or mission statement: These are elements of a strategy but not a guide to action and do not give clarity on what business to be in or not. There needs to be a focus on the building blocks of value creation or a sustainable competitive advantage.

Denial of long-term strategy as a possibility: This is a reactive fallacy in which many start-ups and tech firms are placed. Unfortunately, a reactive mode where a company replies to emergent threats because of a rapidly changing market leads companies to prey for more strategic rivals. A clear strategy can be a competitive advantage and a source of value creation.

Strategy is seen as an optimization of the status quo: Optimization of current activities is not strategy. It could be the company is exhausting assets and resources with optimizing the wrong activities.

Following best practices: Some might think strategy is benchmarking against others in the industry and doing the same activities but more optimized or efficient. Sameness is not strategy
What Santa previously did for Christmas is avoiding hard choices and optimizing the wrong activities such as having more elves help update the data on children addresses, names and wish lists. He even had an extra center set-up because it was hard for all elves that worked on different part of the business to work in the same system, such as payments, customer, or vendor data. They all had different tasks related to the data needed. Because Santa wanted to be open to all possibilities in his business, he kept all options open for as long as possible. This year, Santa made some hard choices freeing him to focus on what matters, which is digitization and automation of his processes and finding alignment of all processes and systems within his company. This means hard choices on his resources, both employees (helper elves), vendors (existing of reindeers), and suppliers (many gift production companies). And of course, the resources in his North Pole Data Center. He wants to create more process efficiency with less manual labor and avoid data errors in the future. Focusing on creating 1 single source of truth will provide him to get transparency and retrieve the right information to make informed executive decisions.
Digitization and automation are the way forward
Managing his company with a database of 2.2. billion children, is hard to grasp. It means all contact data on all children and of course all the wish lists. Taking aside the vendors and supplier data for all the packages.
Since his clear strategy, Santa has less stress to accomplish a 100% satisfaction rate this year of delivering the presents in the right time, at the right place, addressing the right wishes and being able to address the children in the correct way. Having a clear company strategy in place lets Santa focus on what matters. Santa already dreaded the topic of going digital and the explosion of data over the years and had data on his agenda for a couple of years now. Now all that is still needed, is a clear data strategy.
Why is there a need for a Data Strategy?
The role of data is changing from support to strategy which includes retrieving the right insights for business decisions.

Data processes and initiatives need coordination. They need to be provided and tackled centrally and not as single initiatives.

Transparency on data is often missing.

There are data regulations to consider and to comply to.

There is an increasing need for end-to-end processes.
How to build a data strategy?
To help Santa with his own data strategy, the member companies and researchers of the CDQ Competence Center have developed a blueprint "the Data Strategy Canvas" which is a design tool he can use to work out his data strategy.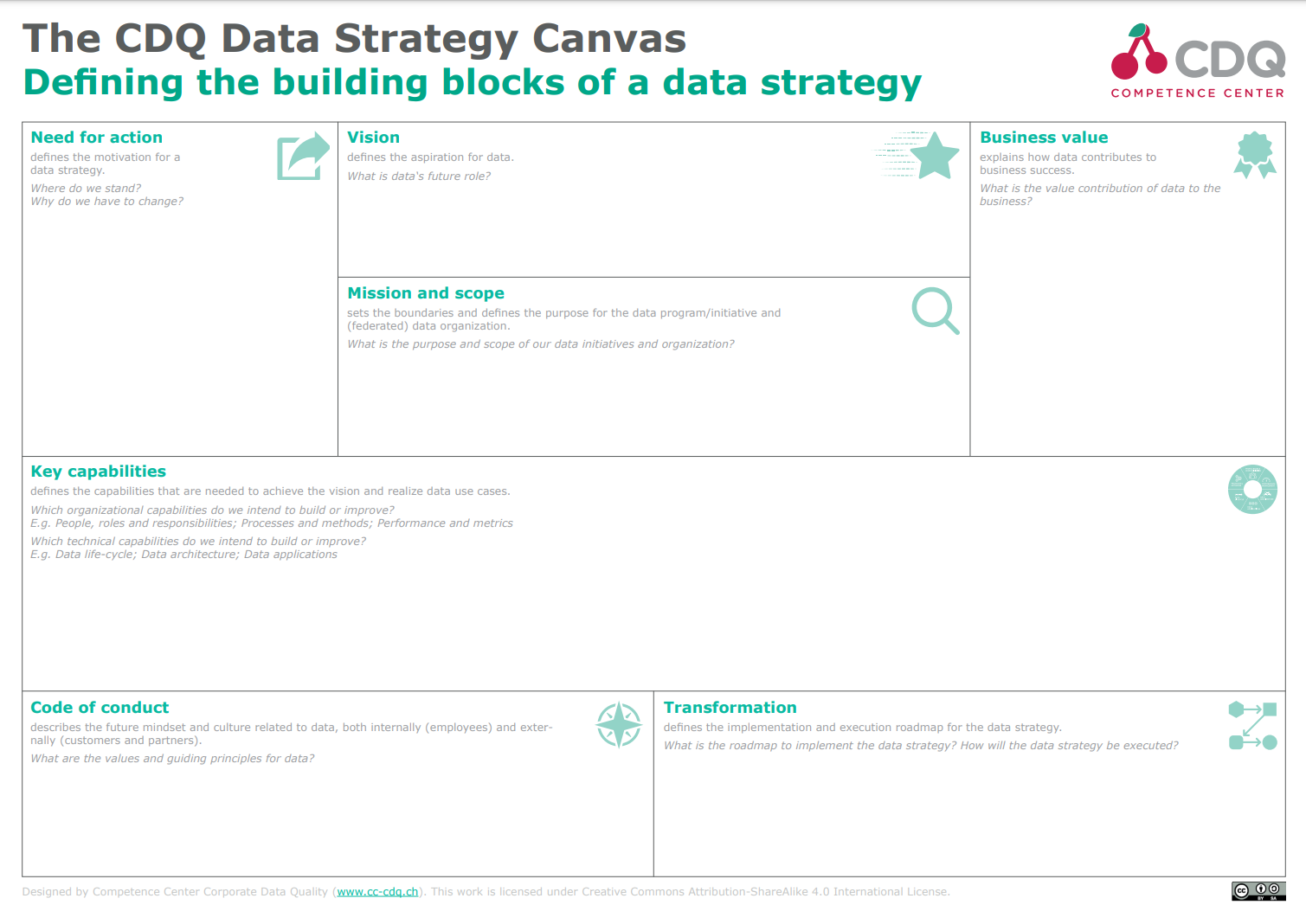 With a new strategy in place and an aligning data strategy to be implemented, Santa's road to success looks promising this year.
More information