Get the Bayer Webinar Insights!
During the webinar on Vendor Master Data Management, Jens Peter Hendriksen and Jens Greiner from Bayer AG shared their experience of the "Cinderella Project" - a novel approach to automated decision making. Do you suffer from high data maintenance costs, low supplier data quality, and are interested in how Bayer has cut costs significantly while maintaining a higher vendor data quality than before? Have you missed out on the webinar or want to watch it again? The webinar recording is now available together with the FAQ debrief and the eBook that was addressed during the webinar on "The Data Value Formula".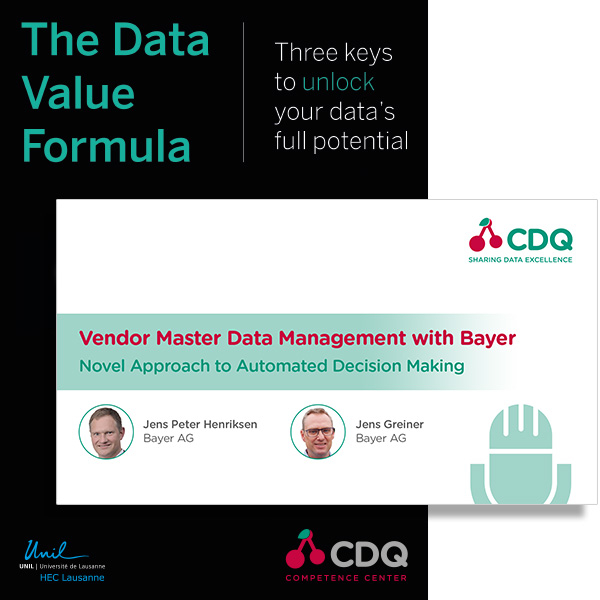 The Data Value Formula eBook
Today, access to valuable data is a superpower. But just having a lot of data is not enough. In one of our most recent eBooks, CDQ data experts from the Competence Center Corporate Data Quality (CC CDQ) explain how to turn data into business value using a simple model – the Data Value Formula. The formula has three elements: Data Volume, Data Quality and Data Use. To showcase the data value formula and its practical application, we invite you to read the complementary eBook.
Please send in your request by filling out the form below and you will automatically receive the recording, FAQ debrief PDF and eBook to your mail.
Send in Your Request via the Form Below